Small Groups Connections
---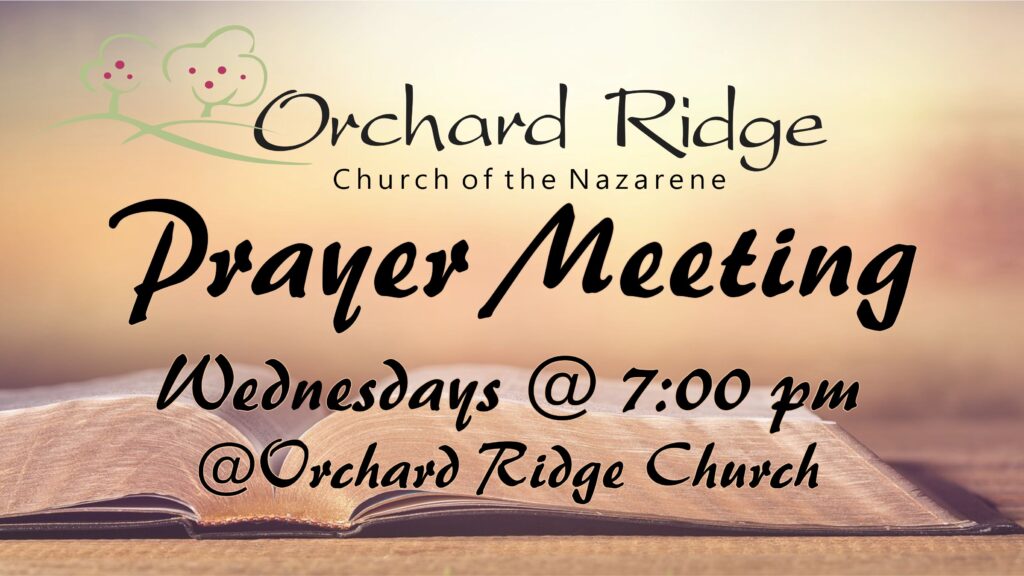 Prayer Meeting & Bible Study
Wednesday Nights @ 7 pm
Location: Sanctuary, Orchard Ridge Church, 64600 Mound Road, Washington, MI 48095
Boost your mid-week spiritual growth by joining Pastor Leon and Pastor Steve as they share Bible insights followed by a powerful and effective prayer time.
Questions? Pastor Leon (586) 484-1100 ~ pastorleon@orcn.info
Once a week, Orchard Ridge Church gathers for PRAYER! Jesus said some things in our lives would never change without prayer. There's a time to pray by yourself – but on Wednesday nights, we pray TOGETHER. And there is POWER, PEACE & PURPOSE available to us when we pray! THERE IS NO GATHERING IN SMALL GROUPS MORE IMPORTANT THAN THIS GATHERING.
Please join us.
---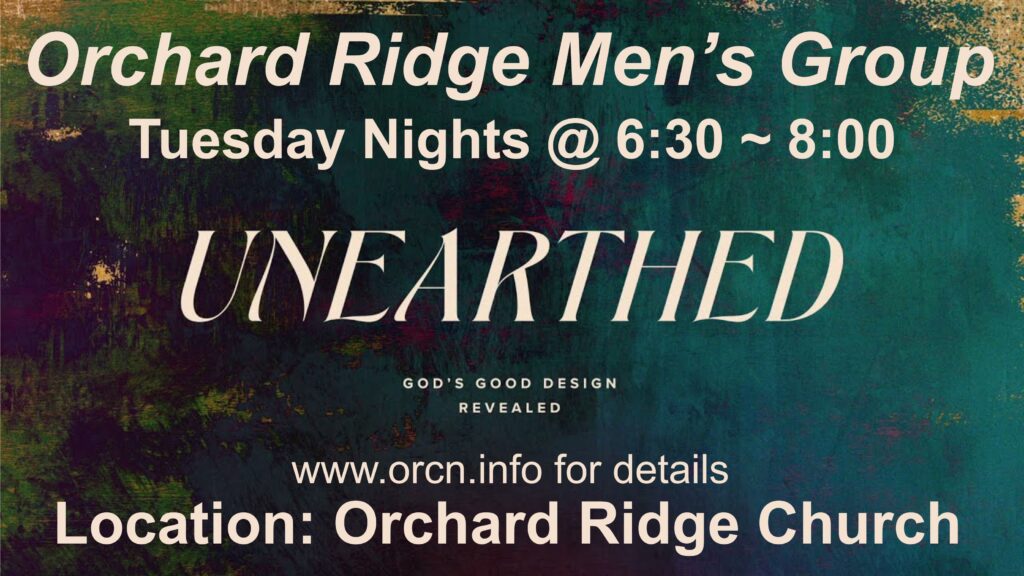 Orchard Ridge Men's Group
Tuesday Night @ 6:30-8:00 pm
Location: Fireplace Room @Orchard Ridge Church, 64600 Mound Road, Washington, MI 48095
Questions? Peter Mills 248-882-4959 millspj@yahoo.com – Chris Hines 586-322-9830 chines@chscf.org – Fred Moler 586-634-8707 fredm389@aol.com
We are continuing to explore the ways that God provides us with direction and true purpose in our lives in the study by Pastor Matt Chandler called "Unearthed"
This is for any guy, at any experience level, who wants to deepen his knowledge of what God said; in other words, all men are welcome!!!
---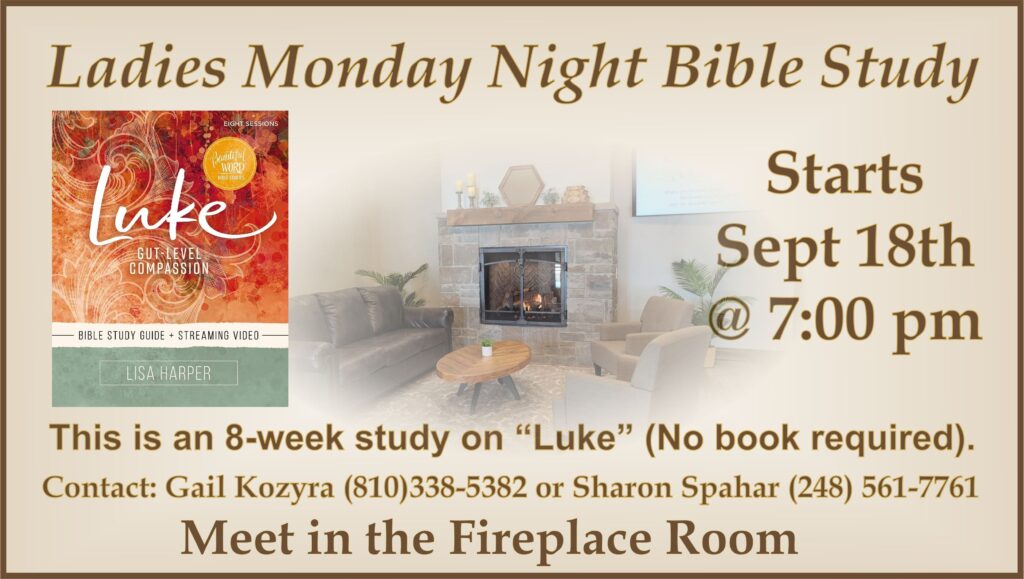 Ladies Monday Night Bible Study
Monday Nights @ 7:00 pm
Location: Fireplace Room, Orchard Ridge Church, 64600 Mound Road, Washington, MI 48095
Questions? Gail Kozyra @ 810-338-5382 or Sharon Spahar @ 248-561-7761
For all women looking to learn more about compassion, come study the book of Luke with us! This 8-week Bible study/fellowship using a study guide and videos by Lisa Harper. -No book to purchase and no required homework
---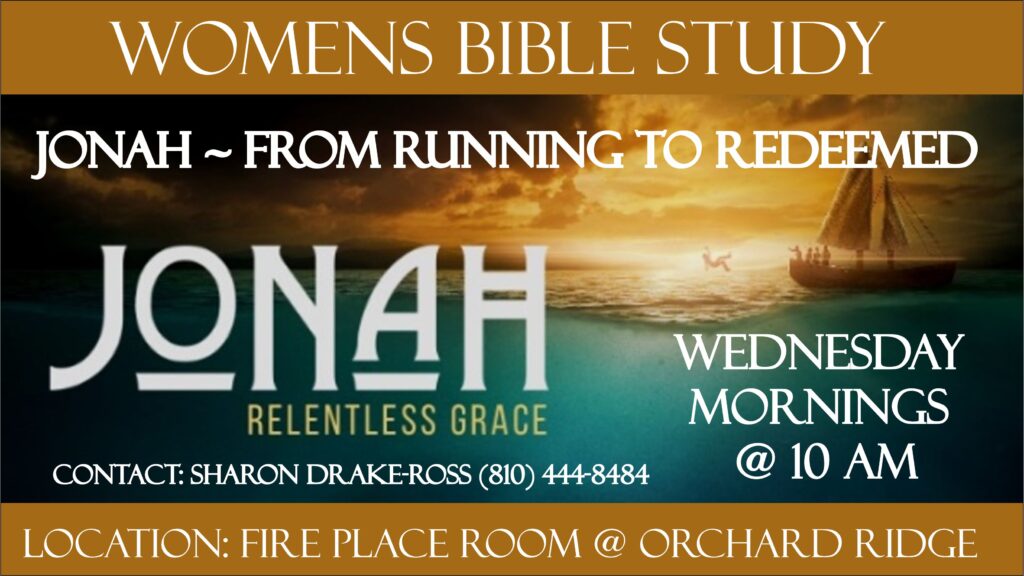 Women's Bible Study
Wednesday Mornings @ 10am–12pm (Check Calendar in The ORCN App for exact dates)
Location: Fireplace Room, Orchard Ridge Church, 64600 Mound Road, Washington, MI 48095
Questions? Sharon Drake-Ross @ 810.444.8484 or e-mail @ sharondaleross@gmail.com
God calls all of us to Himself. But we've all, at one point or another, ran away rather than ran towards God. We all have a little bit of Jonah in us. This Bible Study will examine the life of this Old Testament prophet with the objective of learning his lessons for our lives today. You'll love the study, prayer and fellowship.
---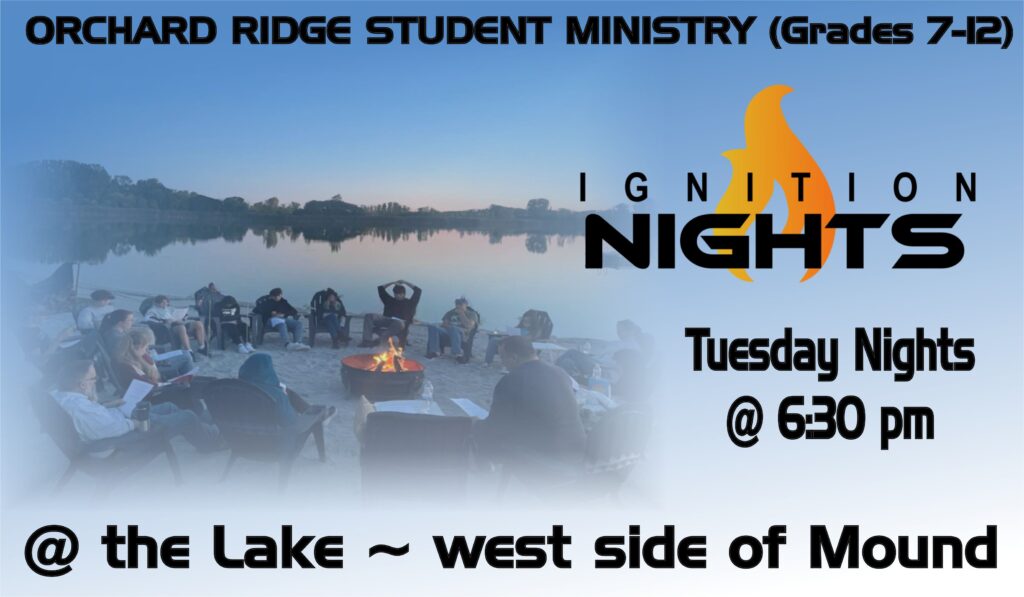 ORCHARD RIDGE STUDENT MINISTRY (Grades 7-12)
Tuesday Nights @ 6:30-8:00 pm
Location: IGNITE NIGHTS @ The Lake. West side of Mound Road, just north of 30 Mile in Washington, MI
Questions? Call Pastor Steve @ 586.381.0070 or e-mail @ pastorsteve@orcn.info
Faith, Friends, Fun & Music! Something special is planned this Fall for Orchard Ridge teenagers! Who is Jesus? CHRIST-ology! How is the Bible – written over 2,000 years ago – relevant to my life in Junior High / High School today? These topics and so much more will be explored on a level students can understand. Come prepared to GROW and build relationships with God and others! This setting is awesome!! You'll love hanging out with friends on the lake. Some nights we will chat around the fire, others will be indoors. BRING FRIENDS! Additionally, our Student Ministry will offer service projects and fun weekend activities. FALL RETREAT is NOVEMBER 10-12 @ Grace Adventures in Mears, MI.
---
YOUNG ADULT Group (Ages 18-29)
Monday Nights @ 6 pm – 8 pm
Questions? Call Skylar @ 248.842.5076
Location: Comfort of local homes
Join us at Orchard Ridge Church for "Ridge," our exciting new young adult group! We'll come together for a mix of social outings, enriching Bible studies, and meaningful community volunteering. It's the perfect opportunity to connect with like-minded young adults and grow in your faith.
---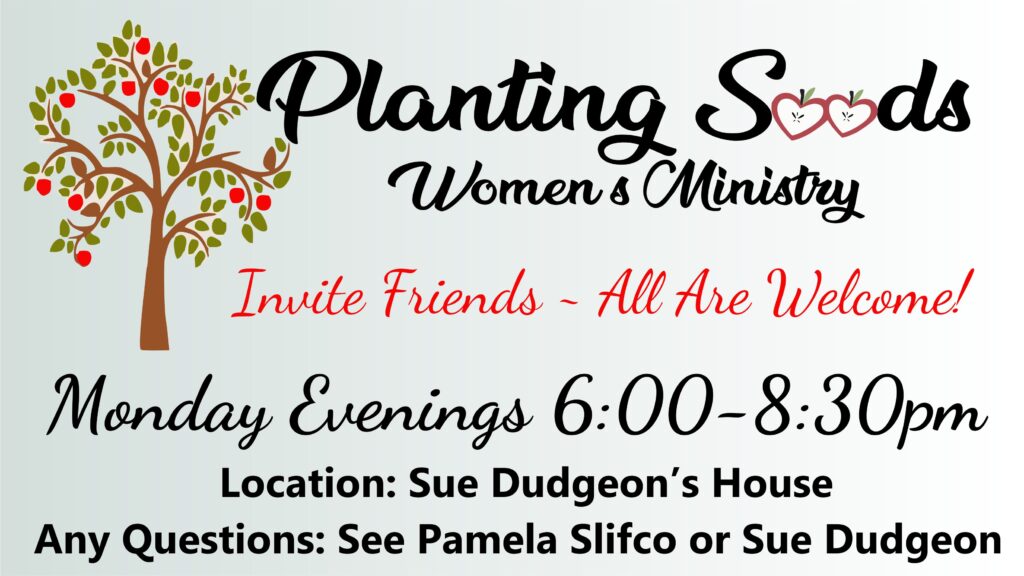 Planting Seeds ~ Women's Ministry
Monday's @ 6pm – 8:30pm (Twice a month) Check Church calendar for dates.
Check Church calendar for dates.
Location: Sue Dudgeon's House
Questions? Pamela Slifco (586) 216-6015 or Sue Dudgeon (586) 610-8318
Planting Seeds ~ A mentoring journey for women 18 and over
Are you longing for close Christian sisterhood? Do you desire to grow in your faith? Are you looking for Promised Land Living?
Then join us as we begin to Flourish together!!
---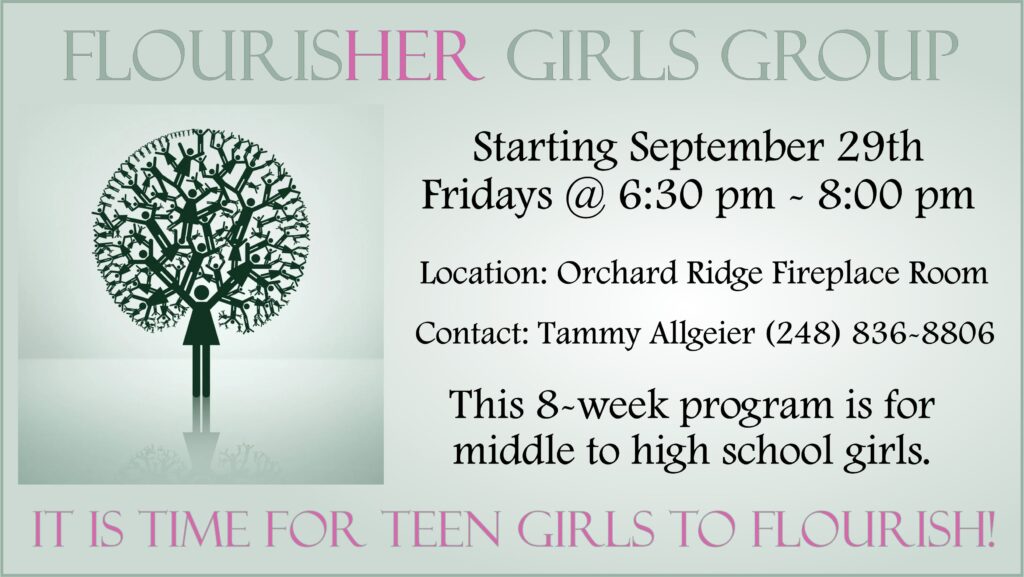 Flourisher Girls Group
Friday's @ 6:30 pm – 8:00 pm (Starting September 29th)
Location: Fireplace Room
Questions? Tammy Allgeier (248) 836-8806
It is time for teen girls to Flourish! Our girls are being bombarded with so much conflicting information in this world. Flourisher Group will encourage and fortify girls in the understanding of who God created them to be while developing a healthy self-image and enriching the world with competent, gracious and effective young women who love and serve others.
This 8-week program is for middle to high school girls.
---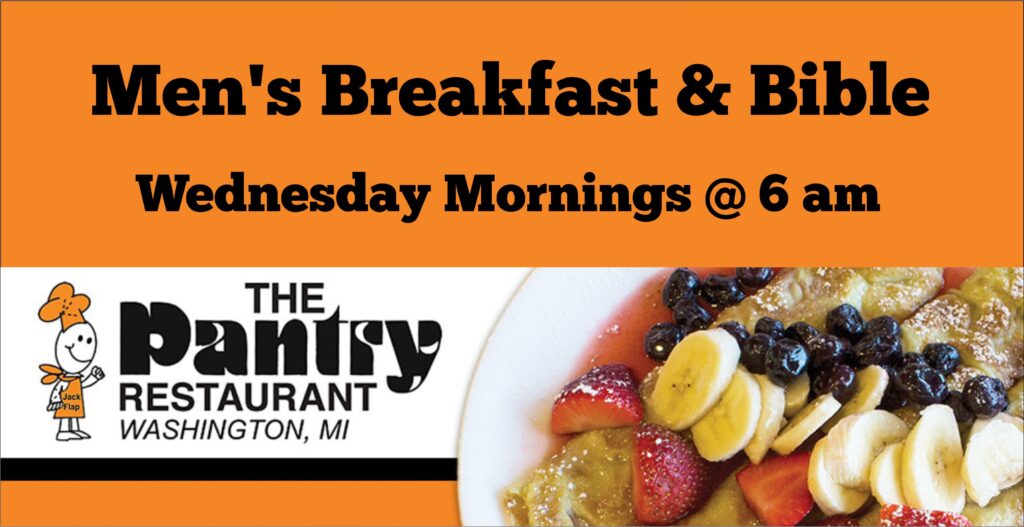 Men's Breakfast & Bible at The Pantry Restaurant
Wednesday Mornings @ 6 am
Location: The Pantry Restaurant, 58884 Van Dyke Ave, Washington, MI 48094
Facilitator: Frank Sandomierski
Questions? Call Frank @ 586.744.9701 or e-mail @ fsands662@gmail.com
We gather early every Wednesday to share breakfast and dive deeper into the Word to consider how it applies to our everyday lives.
---
Financial Peace University
Financial Peace University
Starting September 28th and continuing Thursday nights at 6:30 pm – 8:00 pm
Location: Orchard Ridge Church Lobby
Contact: Matt Thompson (586) 246-3626
Does your family struggle with finances? Are you in debt? Would you like to get a better grip on your money management? If the answer is yes to any of those questions, join us for this is a class created by Dave Ramsey to help you better understand how to manage finances from a Christian perspective.
---
Additional Ministries:
Gathering Tables
Multiple Leaders
Meet Once or Twice a month
Locations vary/virtual option possible
Facilitator: Chris Hines
Questions? Call Chris @ 586.322.9830 or e-mail @ chines@chscf.org
---
Prime Timers – Ages 55 and up
The goal of this ministry is to provide spiritual growth, encouragement, support and fellowship for our Seniors of 55+. We meet several times a year at Orchard Ridge Church where we will share a light meal and fellowship together.
Questions? Call Sharon Drake-Ross @ 810.444.8484 ~ sharondaleross@gmail.com ; or Joyce Miller @ 586.764.2211 ~ joysmiller123@yahoo.com
---
Community Christian Groups outside of Orchard Ridge Church:
BULLDOG Men's Group
Thursday Mornings @ 6 am
Location: Coaches Room, Romeo High School, 62300 Jewell Road, Washington, MI 48094
Questions? Call Pastor Steve @ 586.381.0070 or e-mail @ pastorsteve@orcn.info
SHELBY Men's Group
Wednesday Nights @ 7 pm
Location: 54255 Franklin Drive, Shelby Twp, MI 48316
Questions? Call Chris Hines @ 586.322.9830 or e-mail @ chines@chscf.org
ROCHESTER Men's Group
Friday Morning's @ 7:30 am
Location: 971 Dutton Road, Rochester Hills, MI 48306
Questions? Call Pastor Steve @ 586.381.0070 or e-mail @ pastorsteve@orcn.info
---

"Where the lost are found, the found are discipled, and disciples serve."